Posted in General on May 15th, 2012 by Casey Crow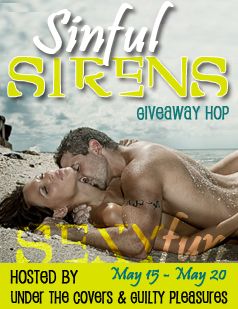 Welcome to the Sinful Sirens blog hop hosted by Under the Covers and Guilty Pleasures. Since we're talking about Sirens, I'm giving away (international prize) an ebook copy of my Siren Publishing release DANCE WITH A MILLIONAIRE to a lucky commenter.   
Southern belle Campbell Layne is the rising star of the Manhattan Ballet Theatre, providing she lands an upcoming principal role. The stage heats up, however, when Rod Carrington steps in and teaches her more than she ever expected!
Determined as she is to stay focused on the audition that will push her into stardom, dazzling attorney Rod Carrington still proves to be a major distraction especially when he ends up teaching the college class she's taking in her spare time. Campbell humiliates herself on their first date, but that doesn't stop Rod from whisking her off to Italy and turning her into quite the vixen. Too bad he also had to use his powerful influence to secure the lead for her. Now she'll never know if her talent was real or "bought" by the man she thought was the love of her life.
Here's an X-RATED ADULT EXCERPT to tempt you further:
"Bel-la." Rod gathered her tighter and simply hugged her, burying his face in her hair.
For a second, the world stopped and her heart melted as he pressed his chest into hers. His woodsy, clean scent blended with the lemony smell of his starched shirt. She heard him inhale deeply, and the loneliness over the past few weeks faded away. Spreading her fingers wide, she slid them into the softness of his hair before gliding down to knead the muscles of his upper back.
"You're tense."
"I'm sexually frustrated." His mouth found her earlobe. The metal on her earring clanked against his teeth. She let out a low chuckle.
"Me, too."
"You smell like lavender and vanilla and taste cinnamony and sweet."
"Then eat me up."
"I intend to." His palm slipped to her breast, giving it a firm squeeze before rubbing her nipple through the coat.
The satin lining stimulated her nipples further. "Hmm," she moaned as her head fell back, and she arched into his hand. Rod granted her silent request, tugging at the knot at her waist and pushing the coat off her shoulders. His eyebrows shot up at seeing her unclothed. A large grin stretched across his beautiful mouth, his lips full and moist from kissing her.
"Come to my office and sit on my lap anytime." He bent to lick a nipple.
She dug her nails into his back. "Yes, darlin'."
"Patience, princess." His tongue twirled around her areola as he squeezed her other breast. Switching his lips to it, he sucked the entire thing into this mouth.
His cock rubbed against her inner thigh, teasing her pussy with its nearness. Shifting her weight, she rotated her hips so his dick touched her clit. She was dying to have his long, hot, velvety dick deep inside her, stretching her wide. Her juices dripped in anticipation. "More," she said, hoping to hurry him up. He groaned his approval and slid his fingers to her pussy, parting the folds, and rolling her clit back and forth with the tip of his finger. Sensations exploded, shattering her composure into a million pieces then melting them into a warm, liquid pool of satisfaction that heated her skin. Every nerve ending, every cell seemed attuned to his touch.
She moaned so loudly he raised a finger to her lips in a shushing gesture. Her response was to take it into her mouth and suck. God, she'd never felt such abandonment, such freedom at acting like a—what was the word? Siren. Yes, Campbell had discovered a side of herself she'd never known existed. Rod had coaxed a bit out in Italy, but now she felt all her inhibitions slip away. She wanted to show him that she was as wild and sexy as his other women.
Her fingers worked in desperate, quick movements to loosen his tie and undo his buttons. She pulled the shirt from his pants, spread the material, and dipped her head to taste his nipples. When she began to unbuckle his belt, he stilled her.
"Tell me you're kidding."
"It's my turn, you seductive minx." He reached behind her and sent papers flying to the floor. Circling his hands around her hips, he lifted her onto the desk.
Raising her foot to his chest, she lightly speared him in the heart with her stiletto. He grabbed her ankle and deposited her foot on the arm of his massive leather chair. He did the same with her other leg then, running his hands from her calves to her knees, he pushed her legs wide. And feasted.
"Rod!" she gasped when his tongue made one long lick up her slit.
"Trust me, baby. You'll love it." He spread her folds with his fingers as his tongue streaked over her nub. "Hmm. You taste good. Always wondered what a girl raised on Southern sunshine would taste like." He kissed her inner thigh and went back to licking her clit.
"Yes! Oh God, yes!"
He made a hushing sound.
"I can't help it," she whimpered. Asking her to be quiet was like telling her to go catch some minnows by hand.
His tongue lapped and brushed her sensitive spot, sending her into a spiraling need. She grabbed a handful of his hair, pressing his face harder into her pussy. He slipped his tongue into her hole. Her head spun, but he gave her no mercy as he pulled out to suck a pussy lip.
He tugged, gently scraping his teeth over it then making a smacking sound as he released it. "So long," he mumbled before pulling the other into his mouth and repeating the exquisite procedure.  Rod slipped his thumb into her hole, rotating his wrist as he pumped her. His tongue returned to her clit, jiggling it back and forth. Her legs quivered and threatened to slip off the chair. She draped them over his shoulders. He stuck a hand under her ass and lifted her hips off the desk. Campbell crossed her ankles, trapping him between her legs and gyrating her hips as fulfillment closed in.
"Please, darlin'. Make me c–come," she begged between pants.
He sucked like nobody's business and swallowed her passion as she came fast. Rod reached to cover her mouth with his hand as she screamed and shuddered violently. He continued to lap up her pussy juices.
Holy fuck. Campbell thought she'd died and gone to heaven.
As her contractions slowed, he stood, causing her legs to straighten against the length of his body. He got his pants off enough for his cock to spring free. Positioning the head at her entrance, he plunged deep.
She watched him bite his lip. "Not so easy to keep quiet, is it?"
******
So did anyone else notice that the hop button is like the classic movie From Here to Eternity? Campbell is also a fan of classic movies. She even dressed in her trench coat and heels and marched into Rod's office like those 1940 flicks. What classic movies do you like? I'm going with Casablanca. Big surprise, but it's a classic for a reason!
Don't forget to sign up for my newsletter so you can stay up-to-date. I recently signed with an agent so we've got some big things coming for you!
DWAM BUY NOW
Visit Casey at http://www.caseycrow.com
Follow on Twitter @caseyecrow and Facebook Casey Crow
DANCE WITH A MILLIONAIRE EXCERPTS
2011 Best LRC Contemporary & 2012 Gayle Wilson Award of Excellence Winner CAN'T FAKE THIS buy Kindle version on Amazon and all versions at Loose, Id.
CAN'T FAKE THIS Excerpt
See the CAN'T FAKE THIS book trailer